Fort Martin Brings Together Family, Community for Health Fair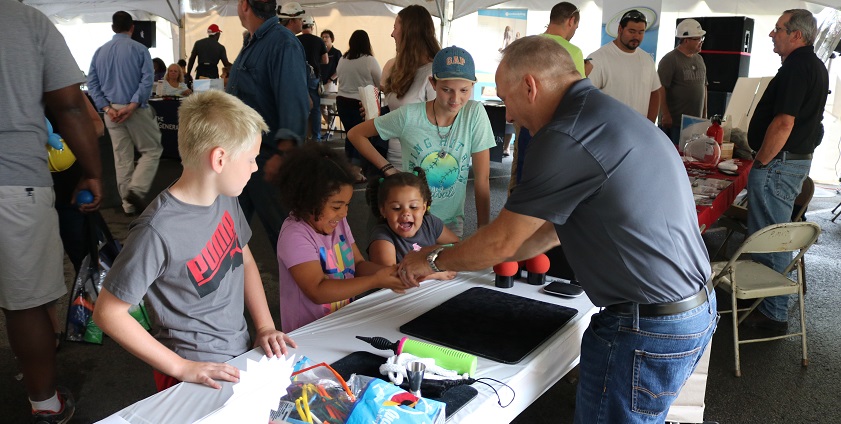 July 5, 2018
Under the big top, Chuck Rygle became a magician. The Fort Martin yard operator, who usually manipulates barges unloading coal along the banks of the Monongahela River, elicited screams of delight from children with his sleight of hand inside the huge tent that housed the Fort Martin Health Fair.
Each year, the health fair brings out the families of those who work at the plant, and dozens of community partners. The festival atmosphere underscores the fact that the power plant and its employees are in tight-knit communities. But the purpose of the fairs is serious business.
Plant Production Supervisor Bryan Eilam and Mark Lewis, an insulator with Burnham Industrial, sat side-by-side as West Virginia University pharmacy students drew blood for glucose tests. Electrician Jeff Jacobs and his wife Melanie brought 10-year-old daughter Ali to learn about health, and were interested in glucose tests, a visit to the dermatologist and preventive ultrasound screenings.
"We're proud that we were the first health fair at FirstEnergy to offer ultrasounds," said John Holt, Fort Martin I&C Maintenance, who also chairs the plant's Health Fair Committee. "Just about every year through various tests we find at least one person with a serious health problem that they might not have known about otherwise. That includes gall bladder issues, blocked arteries and even thyroid nodules. The chance for early intervention is something you can't put a price on."
It was a special day for Master Mechanic Frank Kelly. His daughter and son-in-law brought along granddaughter Ruth … who, at five months old, performed some special magic of her own, melting hearts of the most seasoned employees.
"This is really impressive," said Frank's son-in-law Mike Demicco, looking at the various booths and displays. "What a great thing for the employees and the community."
"I worked with a guy who had an ultrasound," added Frank, "and they found some serious problems. Within a very short time he was in a hospital and having an operation. He came back to work, and now he's retired and healthy. The health fair literally saved his life."
"It's a grass roots effort and employee-driven," said John. "We're grateful for the company support. Everybody gets involved. It just gets bigger every year. It brings the community together. And the important thing is, we're helping people stay healthy."